오늘 1월 4일, 금요일 화창한 겨울 날씨입니다. 그동안 우리가 속하여 있는 캐나다 연합교회가 오랫동안 교회 조직을 바꾸기 위하여 전력을 다하여 드디어 2019년 초부터는 캐나다 연합교회 토론토 연회와 토론토 동남부 노회는 없어졌고,  동시에 전국에 16개 Region으로 바꾸어 지교회들이  목회하게 됩니다. 우리 교회가 속하여 왔던 토론토남동부 노회는 앞으로 Region 10을  새로운 이름으로"Shining Water "라고 부르기로 결정 하였습니다 .  Region 10 "Shining Water"의 새로운 웹 Site도  Open 되여 운영되고 있습니다. 옛날 토론토 동남부 노회와 토론토 연회에서 하는 모든 목회를 이 곳  Region 10 에서 하게 됩니다. 앞으로 Region 10 사무실은 두곳에 있게 되고, 사무직원들도 새로 채용하여 근무하게 됩니다. 아래는 Region 10 총무의 새해 인사입니다. 아래 새 사무실 주소와 연락처를 참고 하시기 바랍니다.     감사합니다.
************************************************************************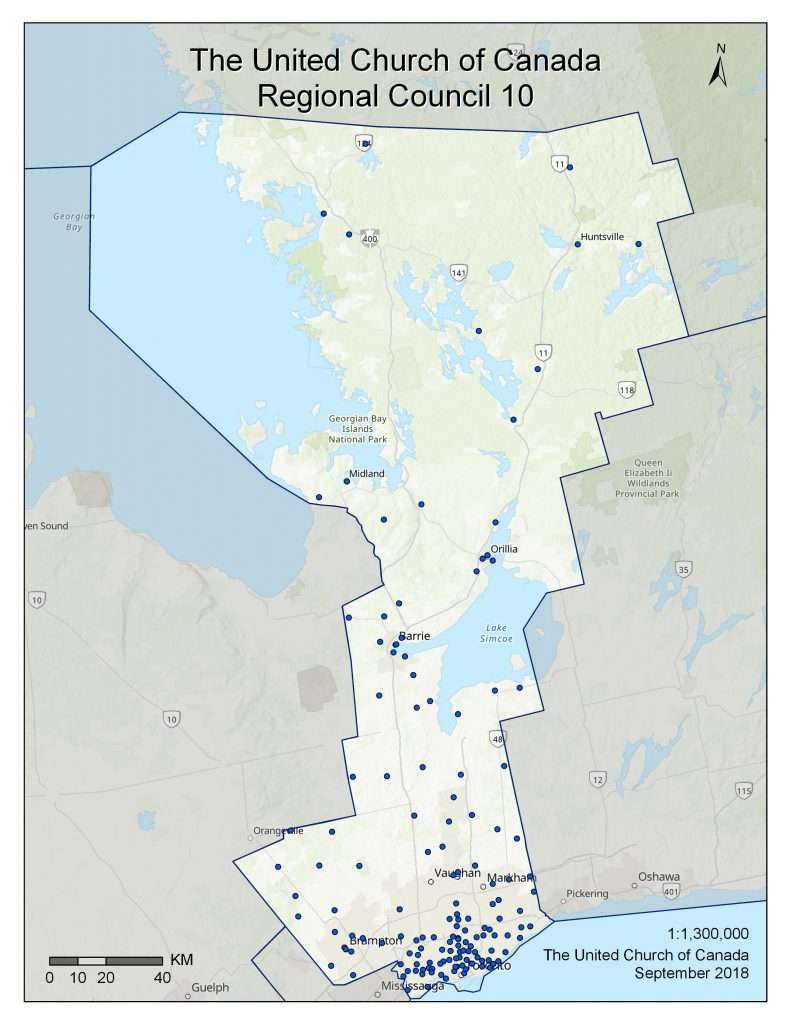 Dear Friends in Shining Waters Regional Council, Region 10
The Transition Commission and staff of Shining Waters Regional Council would like to wish you all a Blessed Happy New Year! May you experience many Blessings in 2019! The United Church as been anticipating stepping into the new three-council model for several years and we are finally here!
We are grateful for the time and attention of commissions and committees during this transition. Staff and offices are re-locating and some staff are not moving into the new structure. We value their contribution and we are sad to see them leave. The Transition Commission has been working to get our new house in order and on their behalf I/we want to share this update with you and ask you to share it with your community of faith. (Download this News memo as a PDF file to print.)
1. NAME OF THE REGION
Shining Waters Regional Council is the name of our new region. In the Anishinaabemowin language Georgian Bay is referred to as 'Shining Waters'. Also the word 'Ontario' is related to Haudenosaunee words describing a beautiful or sparkling lake.
2. LOCATION AND CONTACT INFORMATION
There are two regional offices.
Shining Waters Regional Council
Administrative Office Guthrie
59 Line 4 North
Oro-Medonte, ON, L0L 2L0
Telephone: 416-231-7680 ext.6144
Toll-free:1-800-268-3781 ext.6144
Rachael Howes, Executive Assistant
Email Rachael
Website: http://www.region10.org
Shining Waters Regional Council
Toronto Office
963 Pharmacy Avenue
Toronto, ON, M1R 2G5
Telephone: 416-231-7680 ext.6145
Toll-free: 1-800-268-3781 ext. 6145
Donna Rutz, Administrative Support
Email Donna
Website: http://www.region10.org
3. MEMBERSHIP IN THE REGIONAL COUNCIL
Membership includes:
a.. All ministry personnel, active and retired, are members of Regional Council;
b. Lay members are elected according to a familiar formula:
i.1 rep per community of faith with 100 or fewer resident members;
ii.2 reps from every community of faith with 101-200 resident members;
iii.3 reps from every community of faith with 201-300 resident members;
iv.4 reps from every community of faith with more than 300 resident members
Please note, current representatives to Presbytery are eligible to become representatives to Regional Council but must be elected as such at a congregational meeting.
Job Description for the Regional Council Members: Members of the Regional Council will represent their community of faith at the regional meeting. The member will be expected to provide key communication updates between the Regional Council and their community of faith throughout the year. Regional Council members should be people who are passionate about building relationships beyond their congregation. In addition, the Regional Council member may consider serving within the regional council governance structure. Please notify Rachael Howes at our regional office with the names of your elected lay representative(s).
4. HUMAN RESOURCES
Please note that the talents and experience of the current presbyters will be crucial in the work of the region. We invite you to bring your enthusiasm and dedication to this new ministry. There will be committees/teams of our life and work, although some of these will be organized differently from the past. We will have more news to share in the new year about opportunities for involvement.
In addition, the new structure calls for local clusters to provide a focus for any number of shared interests that we want to keep alive. These could focus on worship, mission, learning, collegiality, justice work, strategic planning – the only limit is our imagination! There will also be networks of folk in different parts of our country focused on particular issues or projects. There is only minimal definition provided by the General Council for clusters and networks. Networks are a way to sustain relationships in the wider church as well as a way to do things more effectively together that are harder, or impossible, to do separately.
5. PASTORAL RELATIONS
Pastoral relations policies govern search, selection, calls, and appointments between ministers and United Church communities of faith.
The 43rd General Council (July 21–27, 2018) enacted the remits that pastoral charges and presbyteries passed. The General Council also passed GCE 11 New Pastoral Relations Covenant Policy, resulting in the following changes to our pastoral relations system: •The definition of covenant is expanded beyond three parties.
•The needs assessment process is replaced with the use of profiles of ministry personnel and profiles of communities of faith.
•The governing body of the community of faith is responsible for some pastoral relations actions and decisions that were previously the responsibility of a congregation, specifically: •decisions about supply appointments;
•the responsibility to prepare the community of faith profile (replaces needs assessment);
•the responsibility to notify the regional council of any proposed change in covenant, and to request a liaison.
•The presbytery representative role is replaced with a regional council liaison as the regional council representative to communities of faith for pastoral relations/covenant processes.
•The covenant hub is established and regularized as the required process for ministry personnel and communities of faith to search for calls and appointments. The United Church of Canada will support the Indigenous Church in being self-determining in whether or how they use the covenant hub.
6. COMMUNICATION
Effective January 1st, 2019, the Transition Commission becomes the Regional Executive until the first meeting of the Regional Council in May. We are committed to being accessible to communities of faith and in that spirit, we have decided the following: a.Beginning in January the Transition Commission and Regional Council Executive meeting minutes will be posted on the interim
website http://www.region10.org;
b.A new governance model is taking shape and will be posted as soon as possible. Please note that this is a living document that will see many changes as we move into the new reality;
c.The Nominations Committee will be contacting people regarding roles in the new structure. Please consider their requests prayerfully.
7. STAFF SUPPORT
Our staff team is eager to support and encourage communities of faith even as we are still discerning our new roles. Our preliminary staff contact list is attached.
8. REGIONAL COUNCIL MEETING
The inaugural Regional Council Meeting will occur at Georgian College, One Georgian Drive, Barrie, Ontario, from May 24 to 26, 2019. Many more details to follow!!
9. THE NEW MANUAL
The new manual, effective January 1, 2019 is now available https://www.united-church.ca/news/manual-2019-now-online.
10. LINKS TO KEY INFORMATION •Interim website for Shining Waters Regional Council Region 10. Note we will transition to a new website as soon as we are able, but the link will be available here.
•Remit Implementation gateway national church
•Indigenous Calls to the Church
•New Candidacy Pathway
•New Pastoral Relations processes
•Upcoming United in Learning webinars
•Church Hub
• New 2019 Manual
We are here to help. Please contact staff at either office if we can be of assistance to help you find what you need.
Please continue to pray for the Shining Waters Regional Council as we embark into the new year.
Peter Hartmans
Executive Minister
Shining Waters Regional Council
Copyright © 2019 Region 10, All rights reserved.
You are receiving this email because you are a member of Region 10, The United Church of Canada. This is our official communication network, please do not unsubscribe.
Our mailing address is:
Region 10
963 Pharmacy Avenue
Toronto, On M1R 2G5
Canada