03.24.Joe Biden praises U.S.-Canada friendship: 'Our destinies are intertwined'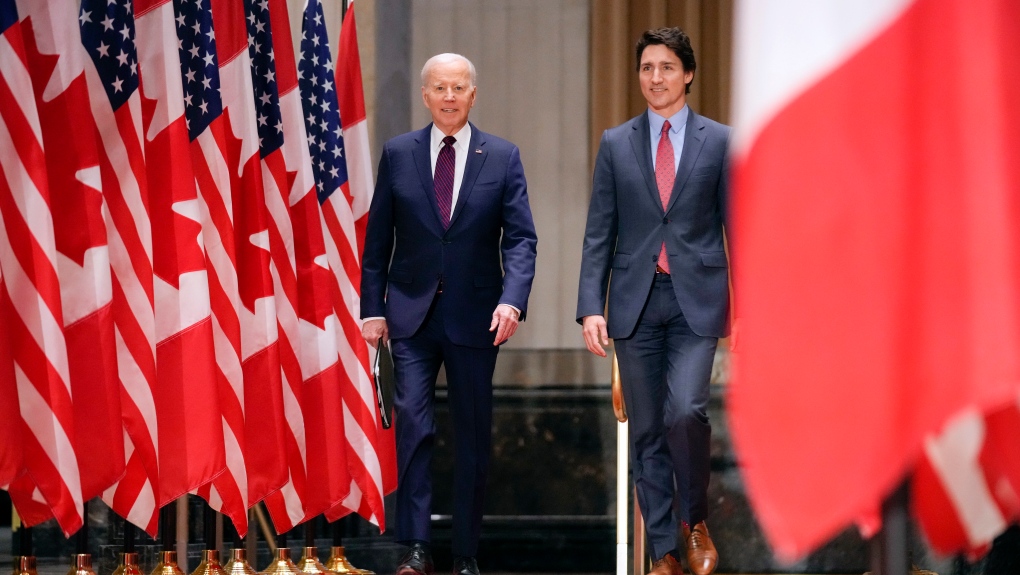 Biden and Trudeau Hold News Conference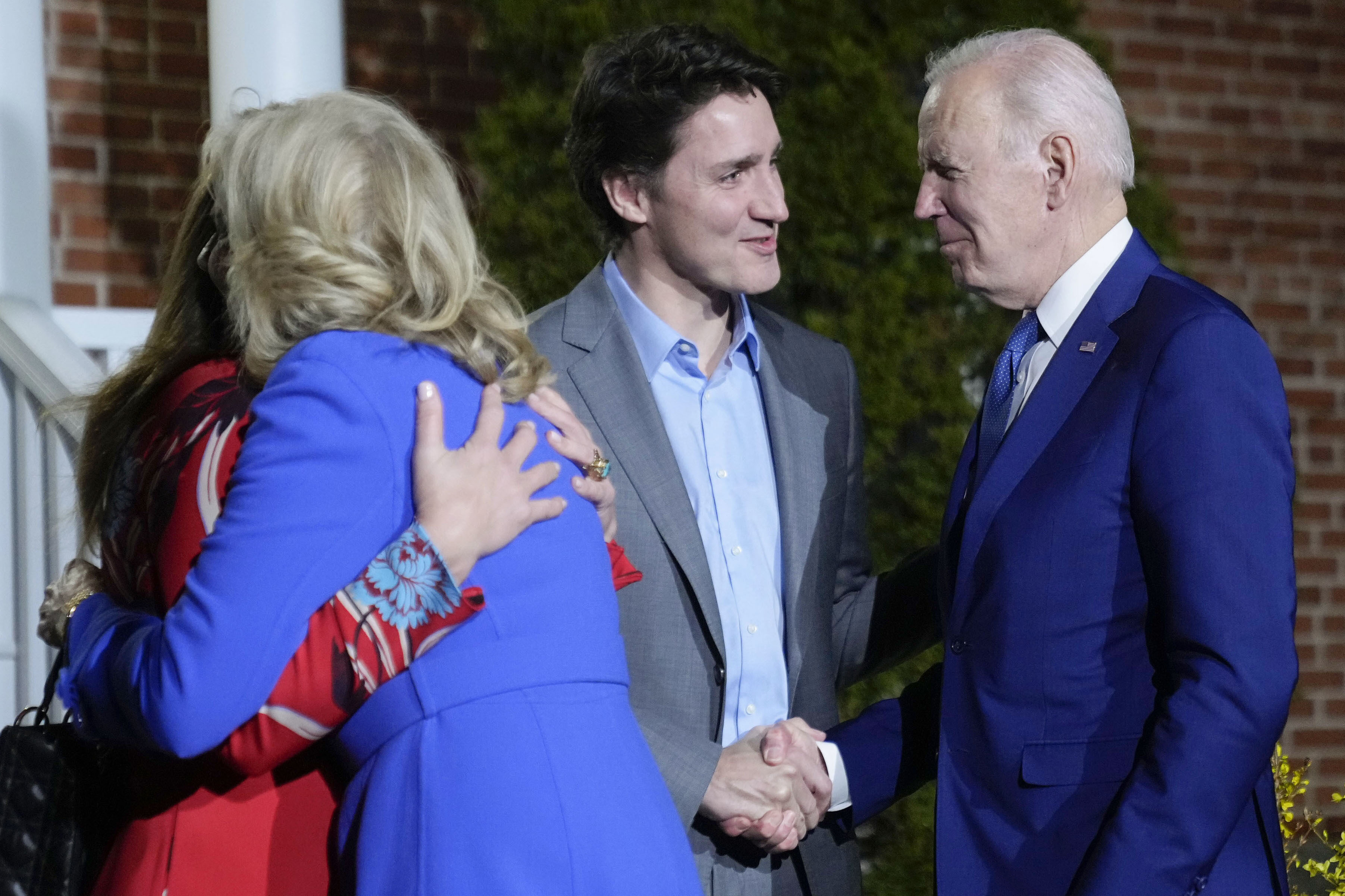 조 바이던 미국 대통령 카나다 방문
Joe Biden praises U.S.-Canada friendship: 'Our destinies are intertwined'
The new funding that Canada will provide for stabilization efforts in Haiti comes on top of nearly $100 million that had previously been promised in this fiscal year.
Fri., March 24, 2023
OTTAWA—U.S. President Joe Biden extolled his country's enduring friendship with Canada in a troubled world, as the American leader visited the capital for a one-day summit in which the federal government tried to score diplomatic wins on cross-border trade and migration, economic co-operation, and shared priorities of the environment and national security.
In a speech brimming with allusions to the countries' enduring friendship, Biden addressed a House of Commons packed with MPs and dignitaries on Friday afternoon. He praised cross-border relations, quoted First World War poet John McCrae's "In Flanders Fields" — and even took a dig at the Toronto Maple Leafs, joking that he can't support the team because they beat the Philadelphia Flyers, his wife's hometown team.
"No two nations on Earth are bound by such close ties friendship, family, commerce and culture, " said Biden, marking his first visit to Canada as U.S. president.
"Our destinies are intertwined, and they're inseparable, not because of the inevitability of geography, but because it's a choice," he said.
He predicted the future of the partnership will be one of "shared prosperity," with North American supply chains for critical minerals, clean technology and microchips, mirrored commitments to fight climate change, and joint support for liberal democracies threatened by autocratic aggression.
"Today I say to you, and to all the people of Canada, that you will always, always be able to count on the United States of America," Biden said.
"We're going to write the future together, I promise you
Just before Biden spoke, Prime Minister Justin Trudeau rose in the House to call the U.S. president a "true friend" for "serious times," citing the Russian invasion of Ukraine, climate change, and people's struggles with rising costs of inflation.
U.S. President Joe Biden delivers an address to Parliament in the House of Commons chamber during his first official visit to Canada since taking office in 2021.
"As it should be, our two nations stand united in this moment, finding solutions side by side," Trudeau said, citing how Canadian and American soldiers have fought side by side and, in some places around the world, lie "shoulder to shoulder" in cemeteries.
"War has now returned to Europe. As you well know, Mr. President, Canada will continue to stand strong with Ukraine with whatever it takes," Trudeau pledged.
The prime minister also made the case for strong economic ties across the Canada-U.S. border, which he called the "place where we will meet the future." Trudeau praised efforts to reduce emissions from steel manufacturing, with an implicit pitch for the U.S. to allow such material into their protectionist "Buy American" tent.
He also argued for a "North American market" semiconductors, solar panels and more, as Canada tries to ensure it doesn't lose business investment as the U.S. commits hundreds of billions of dollars to its own domestic industrial strategy.
By mid-afternoon, some of the results timed for the visit included a pledge from Canada to devote $420 million to protect and preserve the Great Lakes, a senior government source told the Star.
The money for the Great Lakes — which will be spread out over 10 years — will add to Ottawa's action plan to protect large bodies of freshwater in Ontario and Manitoba, according to a senior government source.
The source said the government will announce a new tax credit for clean technology, but did not say how much this would cost, as the two countries launch a task force to work together on the development of green energy.
Canada was also preparing to unveil another $100 million to help Haitian national police, the Star has learned. The new funding is not expected to come with new commitments for a multinational peacekeeping force there, with both sides saying that any mission must be worked out within the United Nations and with the agreement of the Haitian government.
The money comes on top of nearly $100 million that had been promised this year. Foreign Affairs Minister Mélanie Joly has also signalled she will announce new sanctions on Haiti, and was co-ordinating with the United States.
The Caribbean country has been gripped by a crisis of lawlessness and government dysfunction, with armed gangs fighting for control in the capital, Port-au-Prince. The United Nations reported this year that nearly half the Haitian population doesn't have enough to eat.
"We know that the situation in Haiti is dire," Joly said this week. "There is a humanitarian crisis also happening … At the end of the day, what we want as a country is for Haitians to find solutions themselves and that we can support them."
In addition, as the Star has reported, there will be agreement to co-operate on a semiconductor manufacturing corridor between the two countries. Quebec has large semiconductor testing capacity, and Canada wants to highlight it as a key player in the U.S. efforts to "re-shore" that industry.
Biden arrived on Parliament Hill just before noon on Friday, wearing dark aviator sunglasses, and was greeted by Trudeau outside West Block. The two leaders entered the building to continue their long-awaited summit, before Biden delivers a formal address to Parliament on Friday afternoon.
Trudeau led Biden into the building, where the president greeted officials including Conservative Leader Pierre Poilievre, Bloc Québécois Leader Yves-François Blanchet, NDP Leader Jagmeet Singh and Green Leader Elizabeth May, who handed Biden a chocolate bar made by a company run by a Syrian refugee.
A series of working meetings between Biden, Trudeau and their top advisers then focused on geopolitical hot-button issues like Ukraine, Haiti and China; on irregular migration; on defence spending; and on the economy, with Canada and U.S. officials saying that's the priority of the Biden and Trudeau governments.
For all the hype, it was clear that some irritants remain, but as Biden landed on Thursday evening, there were also signals that the visit would warm up relations more, as reports emerged the two leaders could reach agreement on irregular migration.
A bilateral pact — called the Safe Third Country Agreement — would be expanded to allow border guards to turn back asylum-seekers crossing anywhere at the land border to the other country, if finalized by the leaders. The Associated Press reported that Canada could accelerate its timeline for spending on North America's joint air defence system.
But the economic partnership was expected to dominate the leaders' agendas.
Officials from both countries have recently called for a broad reorientation of trading relations to prioritize supply chains and economic ties with like-minded democratic countries instead of those ruled by authoritarian regimes, such as China and Russia.
With the Biden administration prepared to spend up to $370 billion (U.S) on accelerating the clean energy transition, and boosting domestic energy production and manufacturing, the Trudeau government is fighting to ensure Canadian businesses and workers are not left out or left behind, while persuading the U.S. it is an ally in developing the burgeoning electric vehicle industry, not a competitor, and a reliable supplier of the critical minerals necessary to make the transition.
Later, Biden and Trudeau will attend an official dinner with an array of officials, dignitaries and Canadian celebrities. Among the guests will be two Canadians who were jailed by Beijing for more than 1,000 days, the Prime Minister's Office confirmed. Michael Spavor and Michael Kovrig — known as the "Two Michaels" — were detained after the arrest of Meng Wanzhou, a Chinese telecom executive, in Vancouver on a U.S. arrest warrant.